Dinghy sailing courses & lessons in Rye, East Sussex
At our dinghy sailing school in Sussex, on an inland lake by the South coast, we offer Royal Yachting sailing courses and private lessons with our team of experienced RYA instructors. Topper Topaz and Laser Pico's make up our fleet of boats with a Laser Magno and Laser Bahia. All course dates can be viewed and courses booked through our on line booking system but if the dates don't suit you do give us a call and we will try and offer alternatives. All our boats based here in East Sussex are available to hire by experienced sailors.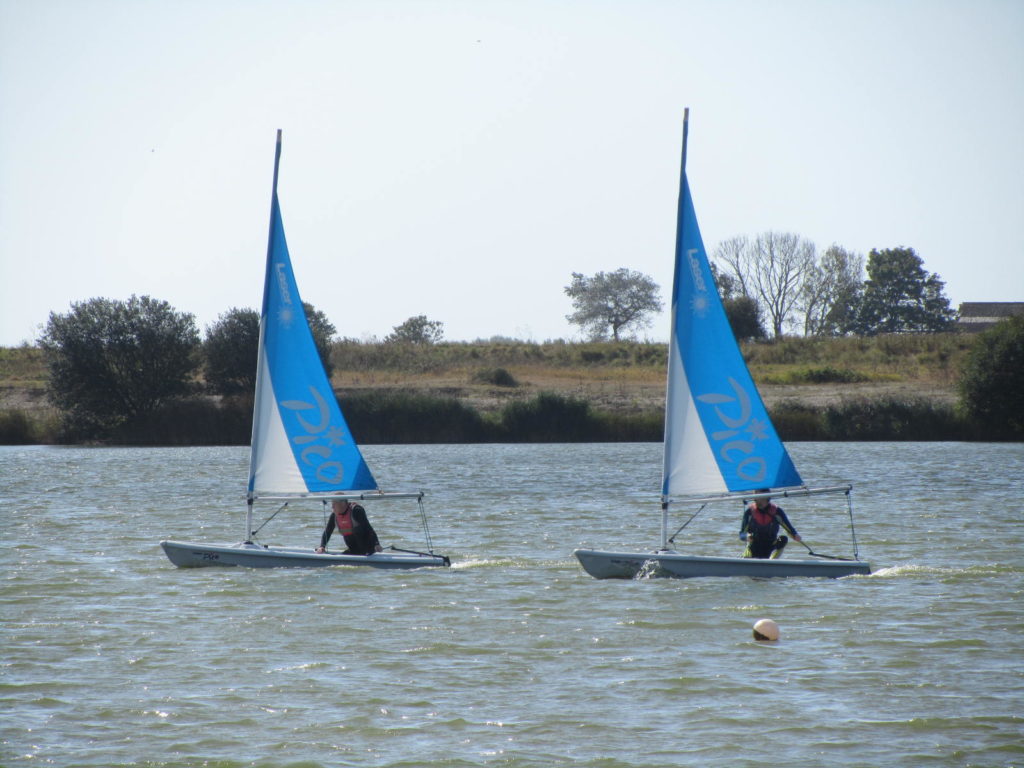 RYA Start Sailing Level 1 – 2 days – £189.00
You will be shown how to rig a boat
Sail across the wind and upwind
Learn how to tack and gybe
Bring your boat safely ashore
You will cover all necessary theory and ropework
The RYA Start Dinghy Sailing two day course is for complete beginners, and teaches you all the skills and theory necessary to get you helming a boat confidently on your own. You will learn to tack and gybe, and sail round a set course. During the two days you will spend maximum time on the water, with the instructor close at hand to guide you safely and expertly throughout the day. All equipment is provided including wetsuit and buoyancy aid (just bring old trainers to wear, or if you have them wetsuit boots). On completion of this course our boats can be hired in light winds.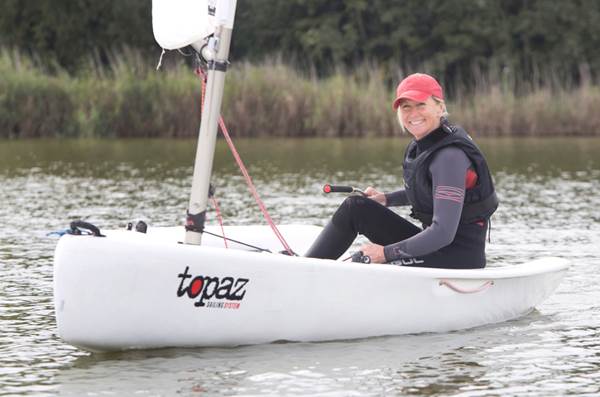 RYA Sailing Improver Level 2 – 2 days – £189.00
Progress with the Five Essentials
Balance, centreboard, sail setting, trim, course made good
Man overboard recovery
More advanced boat handling skills
Improve knowledge of rigging and reefing
The RYA Level 2 course continues with the skills you learnt in Level 1. You progress to more advanced techniques and learn the 'Five Essentials' for sailing – balance, trim, sail setting, centreboard, and course made good. When to reef, rope work, and towing are all covered, including sources of weather forecasts, and use of the anchor. By the end of this sailing course you will have the knowledge and skills to get the best performance from your boat in a variety of conditions. The resulting RYA certificate will enable you to hire a dinghy in centres throughout the world.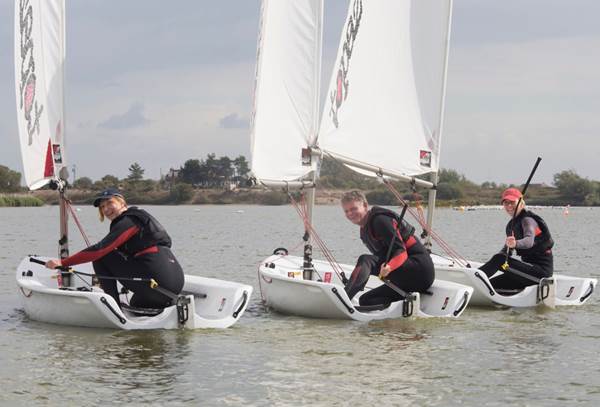 Fast-track – RYA Levels 1 & 2 – £338.00
Book onto both courses and make a massive saving of £40
Progress rapidly with your skills
Book onto both courses and you will progress rapidly with your sailing skills. Some practice is needed between lessons but after your Start Sailing course you can come back and hire on an hourly basis. Go to basic skills course info for more details about the two day content.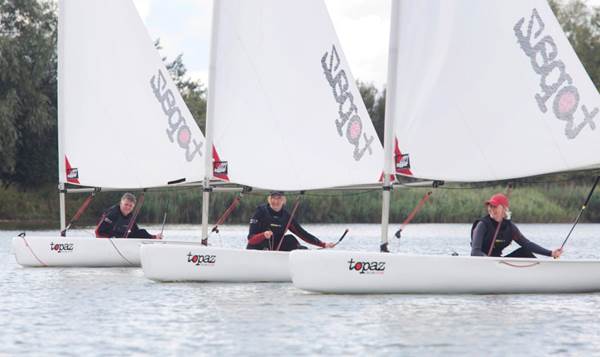 RYA Progression Level 3 – 2 days – £199.00 
Helm and crew seamanship skills
Use of spinnaker
Introduction to racing
Improving on the five essentials
On this course we introduce you to helm and crew seamanship skills and theory. Becoming confident in working with another crew member is an essential part of the course. The five essentials are developed and improved on. You get your first opportunity to use a spinnaker. An introduction to racing is another element of the course content.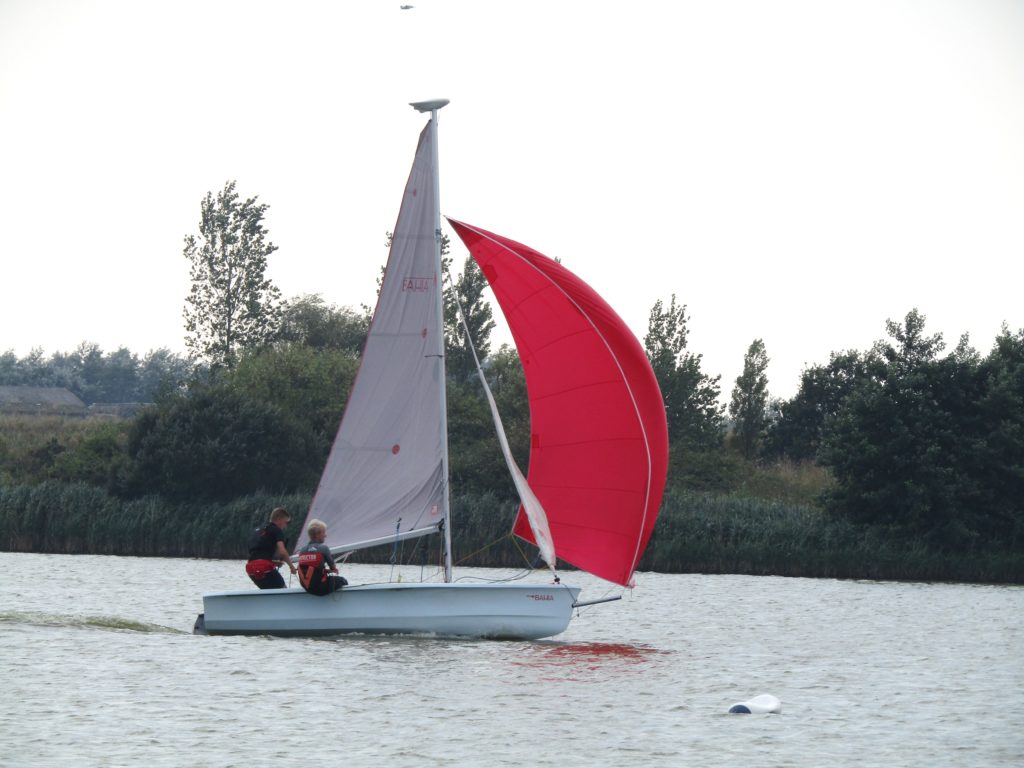 RYA Seamanship Skills – 2 days – £199.00
Learn to crew and helm in a double hander boat.
Use of main sail and jib
Sailing rudderless
Rigging of crew boat
The RYA Seamanship course will progress your skills to handling a larger boat with main sail and jib. You will learn to crew and helm in a crew boat, and most of the work afloat will be done with your instructor aboard. The course content includes rigging, launching and recovery, sailing tight circles, and sailing rudderless. Emphasis in the theory section is on building on the confidence of the student to make correct seamanship decisions in moderate wind conditions, and the practical skills to manoeuvre the boat in a seamanlike manner. An RYA seamanship certificate is given at the end of this course.
RYA Sailing with Spinnaker – 4 hours – £105.00
For students who have completed basic skills or above
Learn to use an asymmetric or symmetric spinnaker
Use of trapeze
Capsize recovery including spinnaker
This course is for sailors who have completed their 'Basic Skills' course or above. Your instructor will teach you how to sail a dinghy/keelboat/multihull rigged with an asymmetric or symmetric spinnaker. Part of the course content includes rigging a boat with spinnaker, and trapeze. To perform spinnaker hoist, gybe and drop as crew or helm. To understand how to sail best course downwind, and to do a capsize recovery including spinnaker.
Private 1.1 lessons
£45.00 per hour – single hander
£55.00 Laser Bahia
Intensive personal tuition
Concentrate on any aspect of sailing
Progress rapidly