Windsurfing lessons near Rye, East Sussex
Windsurfing lessons are taught on safe flat water that is ideal for anyone new to windsurfing. The South Coast offers varied conditions, but our coastal lake is perfect for lessons/beginners and experts alike. The lakes close proximity to the sea at Camber Sands means we get consistent force 4 sea breezes throughout the Summer months, and stronger winds during Spring and Autumn.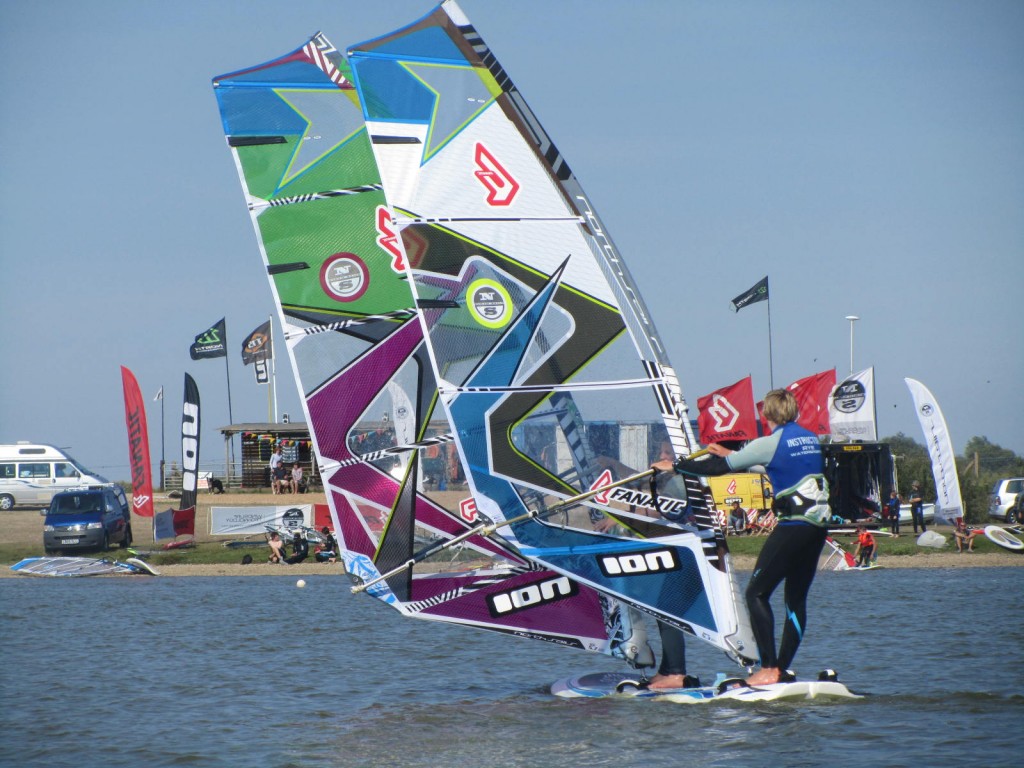 RYA Start Windsurfing (2 day Course) – £185.00
Tacking and gybing
Sailing around a triangular course
Understanding the wind
Return to your starting point
All kit and wetsuit is provided
Free 1 hours board/wetsuit hire
A fantastic introduction to this exciting sport. Your windsurfing lesson starts on a dry land simulator, where you can learn all the basics without getting wet! Once on the water we teach you to sail across the wind and turn around, so you can always get back to the beach.
A short theory session covering wind and safety will give you the confidence to progress on to the next stages. By the end of your course you will be able to tack and gybe and understand points of sailing in relation to the wind direction; you will be skimming over the water in harmony with the wind, and without doubt you'll be hooked on windsurfing.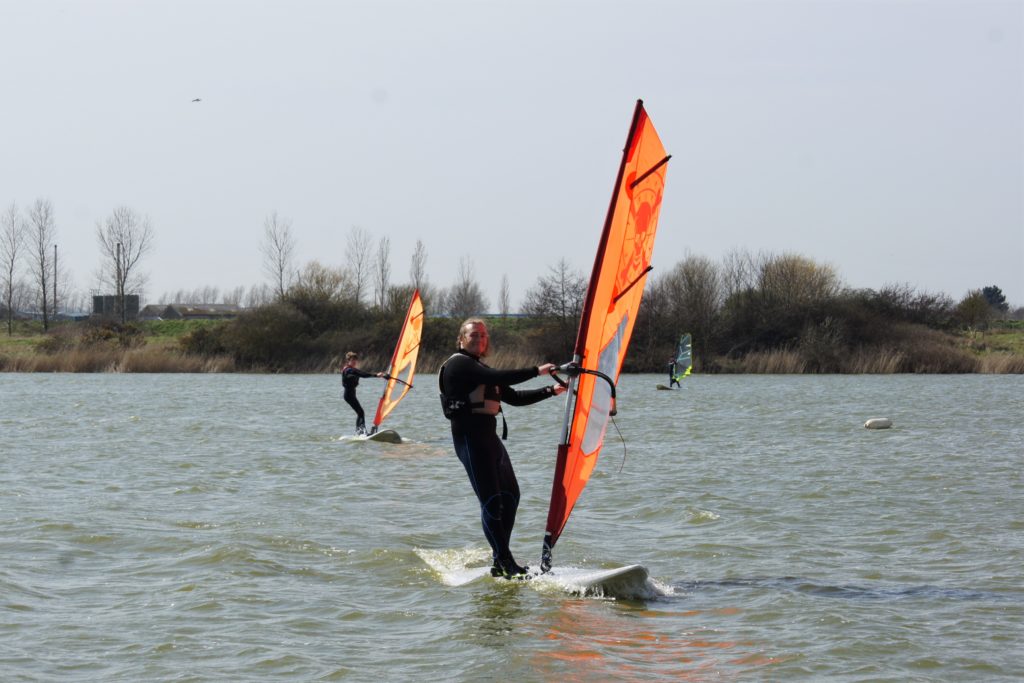 RYA Windsurfing Taster Part A (1 day) – £95.00
A taster four hours to get you up and sailing
Learn to sail across the wind
Turn around
Launching and landing
All kit and wetsuit is provided
This is the first half of the Start Windsurfing course and ideal for people with limited time who still want to get a taste of what windsurfing is all about.. You can always go on to the second day at a future date.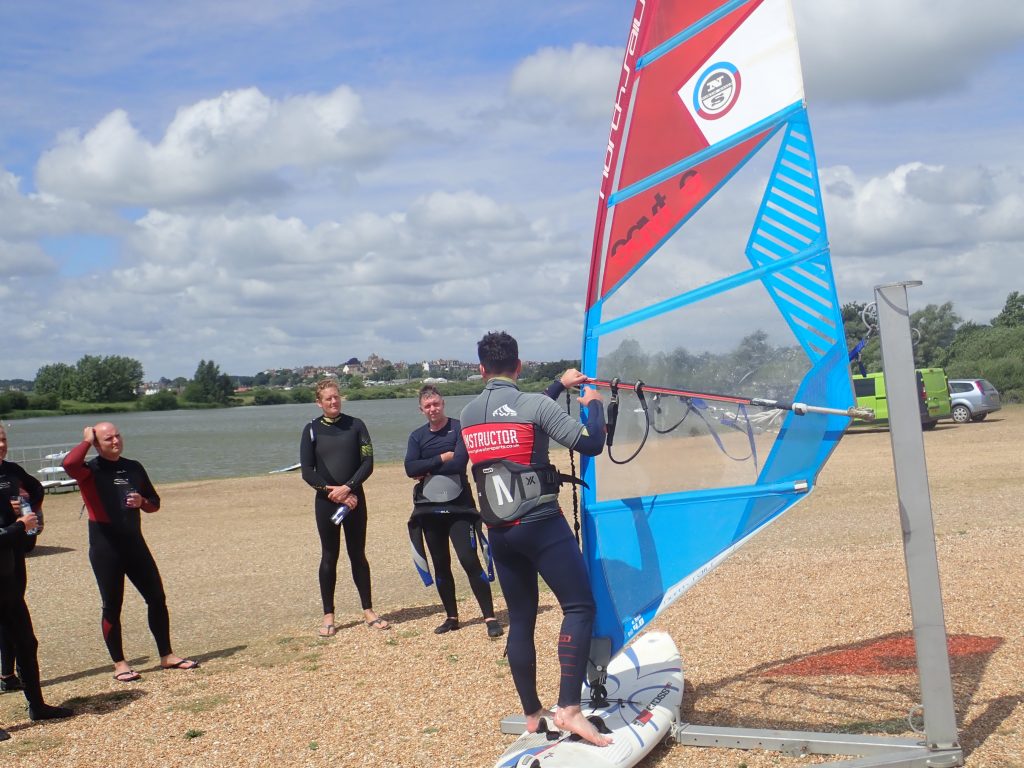 RYA Windsurfing Part B (1 day) – £95.00
As second part of RYA 2 day
Ideal for people who used to windsurf and want to get back into the sport
To progress further and gain the RYA Level 1 certificate
Ideal for people who haven't windsurfed for a while and want to get back into the sport, or for windsurfers who have completed Part A and want to progress and get their RYA Level 1 certificate.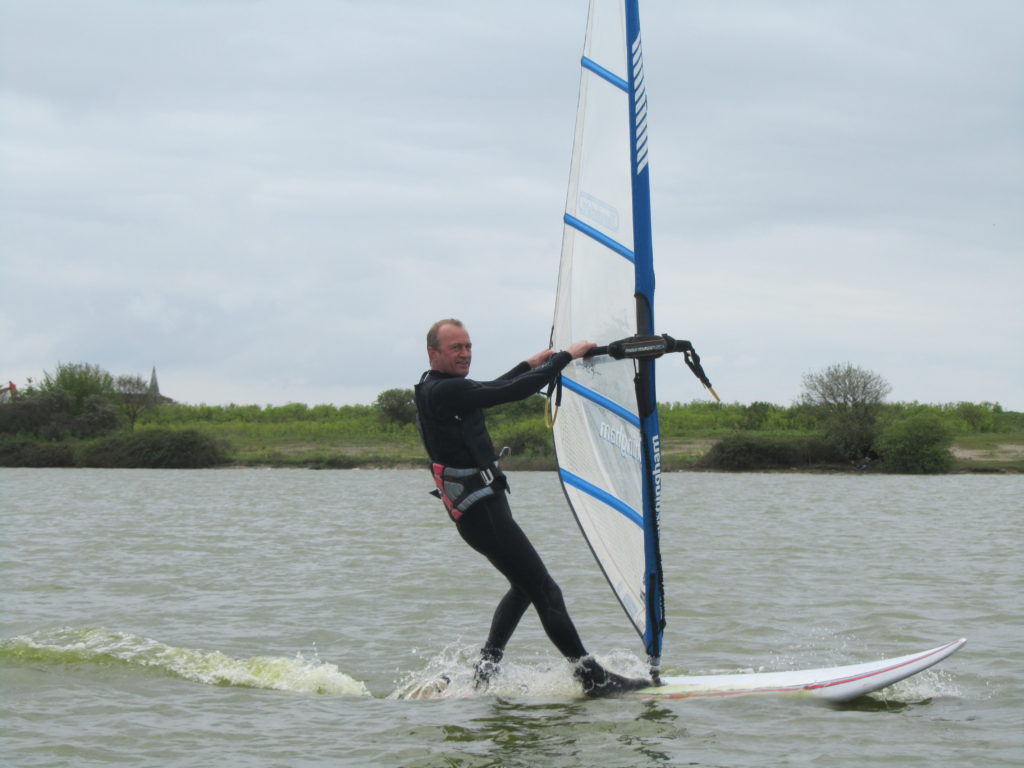 RYA Intermediate (2 day course) – £199.00
For people who have completed RYA Start Windsurfing
This lesson furthers your skills and knowledge
We put you on faster boards with performance sails
Introduction to use of the harness
Faster tacks and gybes
Lands based fast forward simulator sessions
Vision, trim, balance, power and stance
If you can get in some practice before you come on this course it is an advantage, but not a prerequisite. The formula of 'Vision, Trim, Balance, Power, and Stance', is applied to your windsurfing skills. We teach you how to beach start which so useful in stronger winds and, once you've cracked that your not far away from learning how to water start. Use of the harness is also covered and we show you how to set your lines up correctly. Faster tacks and gybes and correct weight distribution are part of this intermediate windsurfing lesson. You will progress rapidly with our up to date teaching techniques.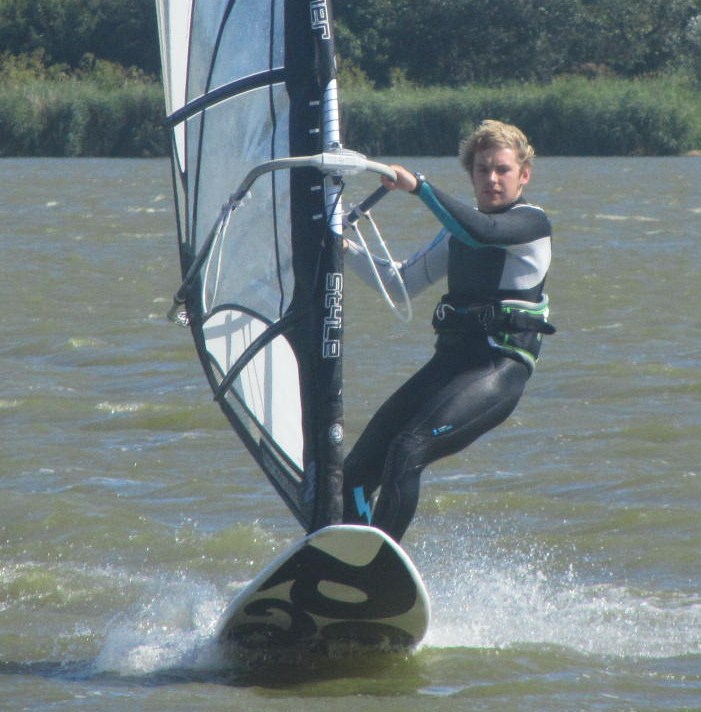 Fast-track – Start + Intermediate windsurfing – £335.00
Book onto both courses and make a saving of £49.00!
Progress rapidly with your windsurfing skills.
This is a great way to fast-track and and progress rapidly with your windsurfing skills. You can use your free two hours board hire to practice between courses, and then try and get a few more hours on the water before your intermediate lesson. Go to intermediate more course info to see in more detail the two day content.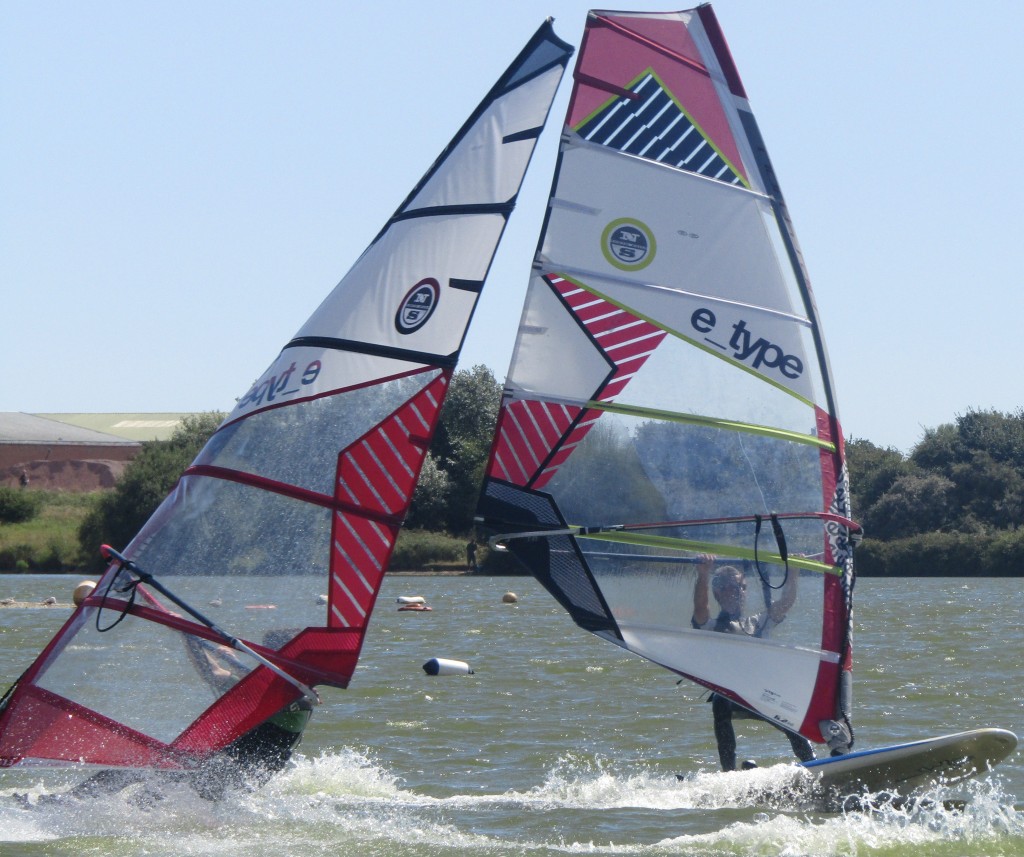 RYA Advanced Windsurfing 2 days – £199.00
Effective use of board & sail to encourage early planing
Blasting Control
Best use of footstraps & harness
Refine stance according to conditions
Maximum of four in group
We use the latest wide style short boards and high performance sails to introduce you to the foot-straps, stronger winds, and the carve gybe. Harness skills, power control, rigging and tuning, to get the most out of your kit, are all part of this advanced course. Our aim is to get you planing and into those foot-straps.These clinics are very wind dependant so please call our centre for information on when we are running them.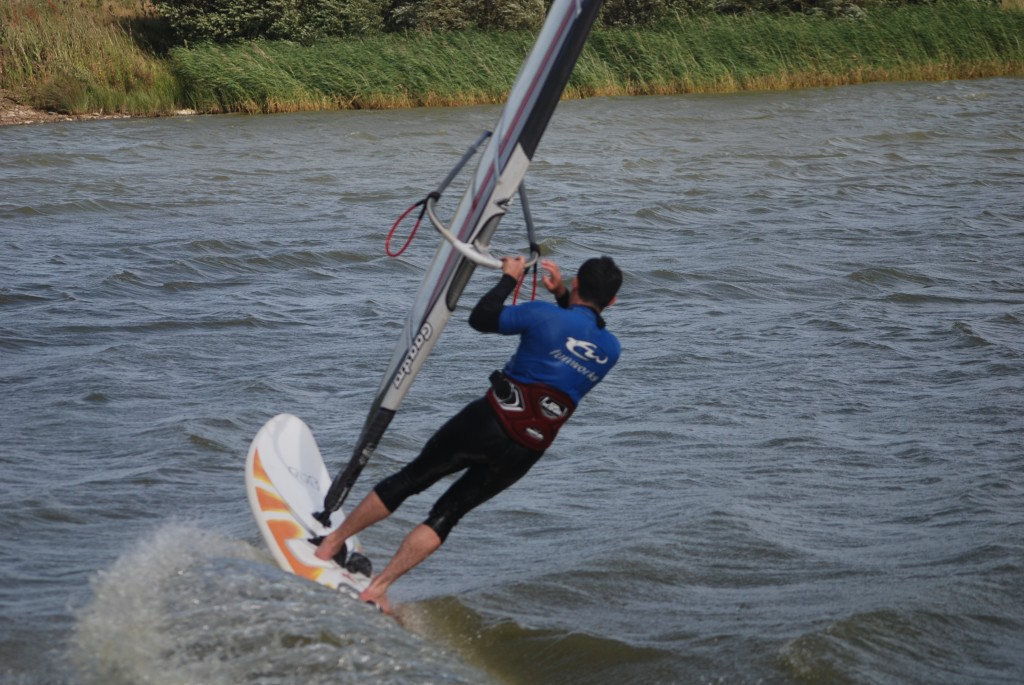 RYA Intermediate/Advanced Clinics 2 hours – £75.00
Waterstarts
Carve gybes
Better use of footstraps & harness
Stronger wind planning techniques
Maximum of four in group
We use the latest wide style short boards and high performance sails to help you gain confidence sailing in a variety of wind condtions. With improved blasting control on variable water states. These courses are very wind dependant so please call our centre for information on when we are running them.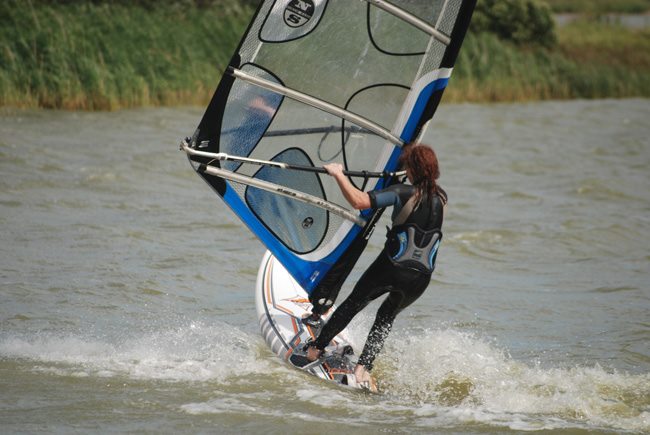 Private 1.1 lessons – £55.00 per hour
Intensive personal tuition
Concentrate on any aspect of windsurfing
Ideal for windsurfers with limited time
Book a second hour and get 1 hr free hire
These are aimed at individuals or small groups who want tailored coaching specific to their needs. Waterstarts, carve gybes, foot-straps, jumping and freestyle can all be covered.Please call our centre to book a private lesson.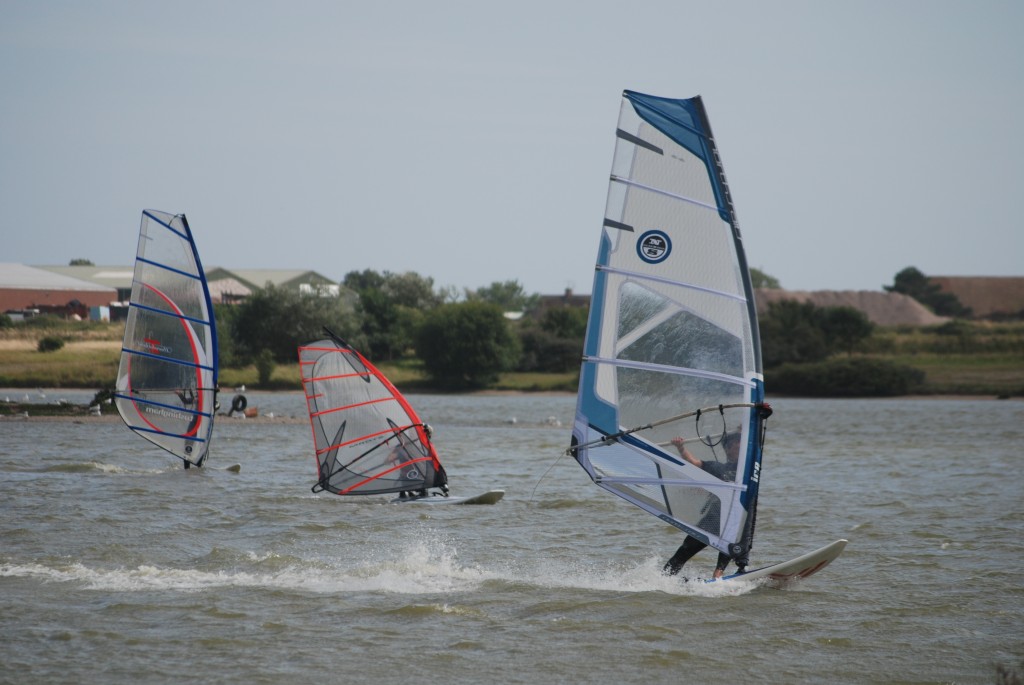 Q & A
Some common questions we often receive answered here.
Or please call the office on 01797 225238 if you have anything at all to ask.
Just a towel! We provide all wetsuits and personal safety equipment.
We recommend that all our lake users use some kind of footwear when on our courses. Wetsuit boots are the most appropriate and can be bought from our shop. (Jelly shoes, are inappropriate)
No matter, we use the latest equipment and teaching methods to ensure you are up and cruising at the earliest opportunity.